You've asked for it, we're going to deliver it.

The iWeb replacement you've all been waiting for is finally here! We're going to be unveiling our all new drag and drop web building tool, EasyWeb, at Macworld next week.
That's right, the rumours have been circulating for some time and now it's officially confirmed; A iWeb replacement is on its way!
Join the Facebook discussion and come meet us at Macworld. We'll be in the Appalooza section. Today we're asking what are the most important features that you need to build a great website.
We have a limited number of free Macworld passes to give away, so comment below if you need and we will get in touch.
*Update: It is looking like Version 1 of EasyWeb will require using Rages web hosting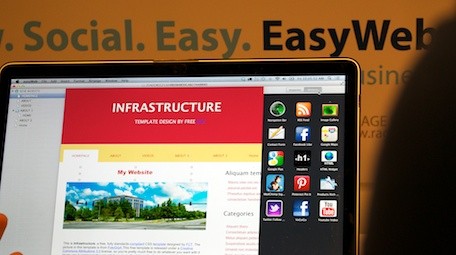 Apple's abandonment of iWeb has left a lot of would-be web admins unhappy. If you had a pre-Mac App Store copy of the app on DVD, you can still install it and even design sites, but some of the previous functionality and MobileMe iWeb publishing is gone. Rage Software is demoing EasyWeb at Macworld/iWorld 2013, an easy website design and publishing app that may be a worthy successor to iWeb.
Megan Lavey-Heaton and I took a look at a pre-release version of the app, which provides design flexibility that wasn't available in iWeb. Users can start with predesigned themes (a number of designers are working on themes for EasyWeb) or a blank slate.
While iWeb was stuck with one-level horizontal menus, EasyWeb users can choose from vertical or horizontal menus complete with drop-downs. There are a number of widgets built into the app for functionality like adding Google AdSense ads, Vimeo or YouTube movies, PayPal payments or social media (Facebook, Twitter, Foursquare, Pinterest, etc…) links.
At this time, there's no word on the cost of the app or when it will be available. The company will be offering a MobileMe-like hosting service at US$99 per year to enable one-click publishing of sites, but alternative/BYO hosting isn't going to be in version 1 of the product.
Is having to switch to Rage's web hosting a deal killer or are you willing to make the switch? 
*Update 04/04/2013:

 EasyWeb will be allowing 3rd party hosting