* Sale has now expired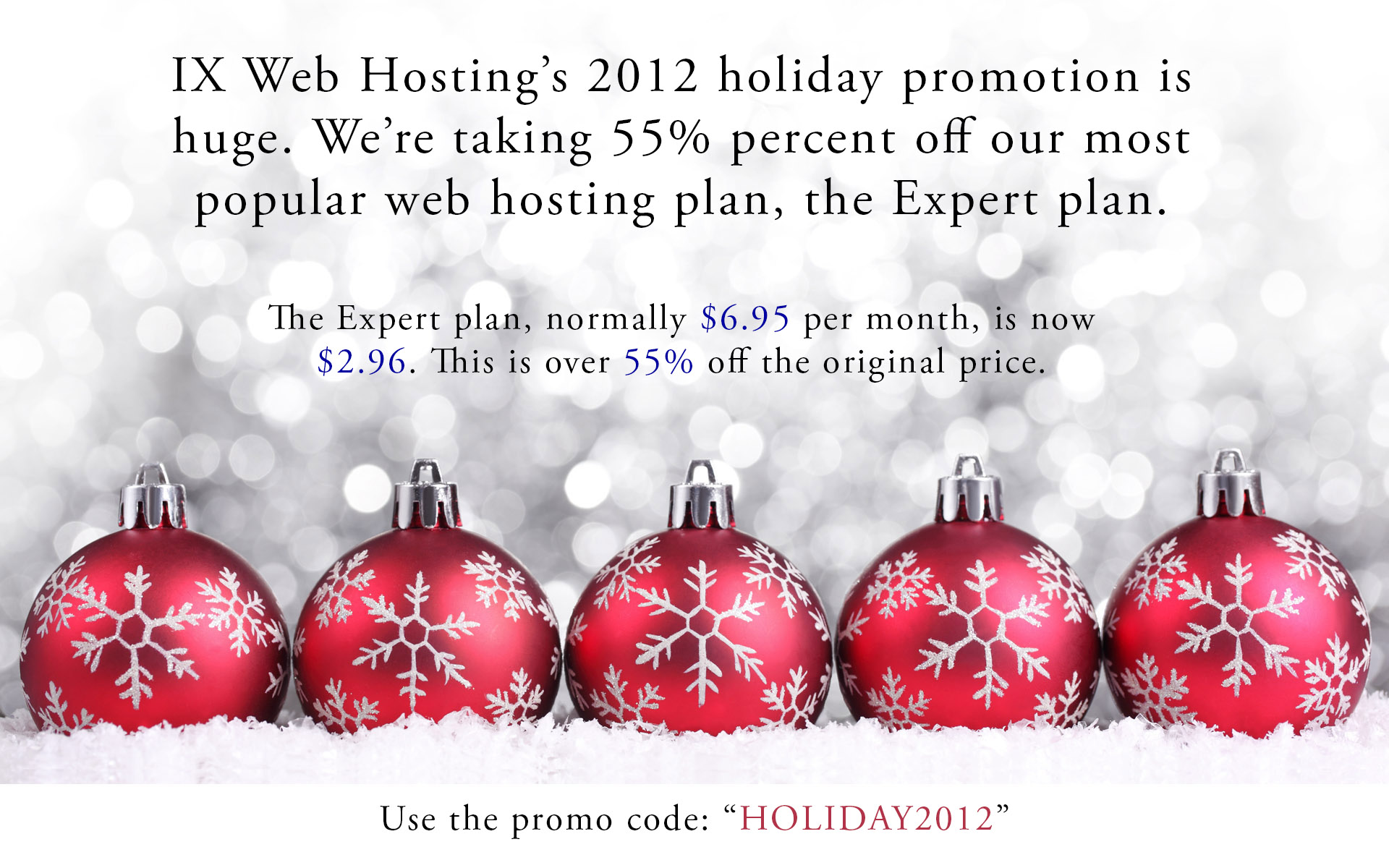 "IX Web Hosting's 2012 holiday promotion is huge. We're taking 55% percent off our most popular web hosting plan, the Expert plan." The Expert plan, normally $6.95 per month, is now $2.96. This is over 55% off the original price.
IX Web Hosting's already affordable and popular hosting plan is now a smarter buy for small businesses and people looking for reliable, reasonably priced hosting. Unlike other holiday hosting promotions, the Expert plan hasn't been modified beyond the 55% price cut. The plan still boasts its usual free domain registration, free dedicated IP address, the free site builder and 24/7 customer service that have made this plan so popular for over a decade.
In addition to the Expert Plan discount, IX is also offering a 50% discount off the first month of their VPS and Cloud hosting plans. These plans are popular with customers looking for something with more customizable options and resources than traditional shared hosting plans. IX hasn't forgotten about their existing customer base either. With this promotion, IX customers can get SSL Certificates for $4.95 and Domain Names for $1.99. Their 99.9% uptime guarantee, unlimited bandwidth and unlimited storage space, as well as their 30 day money back guarantee still stand. The sale runs from December 17th to December 25th.
Hey everyone!  This year we wanted to do something special for the holidays, so, we're having a huge Holiday Sale!  These great deals are just around the corner:
25% off ANY shared hosting plan when you use the coupon: HOLIDAY2012!
50% off the first month of our introductory Cloud or VPS plans! Coupons: HOLIDAYCLOUD12 & HOLIDAYVPS12
For IX Customers Only: SSL certificates are only $4.95, and domain names are only $1.99! Check your email for coupon codes!
It all starts this month, December 17th-25th!  Don't miss out!
We love giving back to our customers for the holidays, but we also remember that there are less fortunate people people in the world.  There are families out there struggling to make ends meet. That's why, for the third year in a row, IX Web Hosting joined the Franklin County Children Service's Holiday Wish event!  This year, we all came together and raised enough money to give toys to 85 children. Check out the full story!