IX Web hosting is one of the top 10 hosting companies in us, in terms of size. According to third party estimates, they host over 494,000 domains. They own over 1% of US market share. They also have a sister company named Host Excellence, which offers packages similar to ix web hosting.
With plans starting from $3.95 per month, they offer excellent value for money. Available in both Linux and Windows hosting, IX Web Hosting is a good choice for hobby, entertainment sites and small business web sites.
IX Web Hosting Features Review
They provide nearly everything needed for a business website. They use H-Sphere control panel, which is good. H-Sphere is not as popular as cPanel but it is simple, easy to use and does almost everything needed for a normal website. Firewall Protection, Spam filtering, Website Templates etc. are standard with all packages. Also, they offer free domain names with all plans.
All the plans come with unlimited space and bandwidth. The major difference among them is the number of IP address provided. For multiple sites hosting, from SEO point of view it is good to have different IP addresses. So webmasters who want to host multiple sites may find "Business Plus" hosting very helpful.
All the 8 IP address will most probably be from different class "C" even though IX doesn't guarantee it. Having 8 different class C IP's is great news for webmasters who want to link their sites and transfer the PR. Most hosts who offer unlimited/large number of add-on domains, doesn't provide different IP for each domains.
IX Web Hosting Coupon
They offer 10% discount on the billing amount amount if you go through a secret link before signing up.
Scroll to the bottom of the page to find the secret Link.

IX Web Hosting Performance Review
IX Web hosting offers reasonably good performance. Their uptime as verified by our test account has been poor during August 2008 – October 2008. But it has been steadily improving from the second half of October 2008 and is looking really good these days.
We have been monitoring our site hosted with IX, using a third party service provider. Screen shot below shows the uptime details for the year 2008.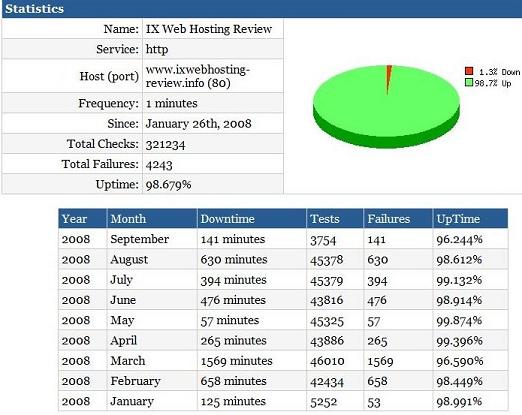 IX Web Hosting Price Value
IX Web hosting is definitely cheap, with offers starting from $3.95. They also allow multiple domains in same account. This is pretty useful for webmaster with many sites.

IX Web Hosting Support Review
IX Web offer toll free(US only) 24/7 support lines, support chat and support tickets. Toll free lines could have waiting time of up to 30 mts., which is not really that bad. They do reply to support tickets in time as well. Even though the support is fast, there has been reports that the support technicians are sometimes not very competitive. Probably this is not the case always, but there are reports of support tickets not giving the exact information requested. We must add, these kind of things happens for almost every host and sometimes only the bad things get reported.
Video Testimonials:
http://www.ixhostingreviews.com

Tags: affordable web hosting, best iweb hosting 2012, best web hosting for iWeb, best web hosts for imac iweb, blog on ix hosting, cheap web hosting, host iweb 2012 june, how to move a personal domain from mobileme to web hosting provider 2012, iWeb, iweb host 2012, iweb hosting sites 2012, iweb hosting smooth transition, IWeb how-to, iweb osx lion, IWeb questions, ix hosting iWeb, IX Web Hosting, ix web hosting iWeb, ix web hosting iweb 2012, IX Webhosting, June 30 2012 MobileMe Discontinued, migrate mobileme to wordpress, mobileme blog hosting transfer, MobileMe discontinued, multiple domain web hosting, reliable web hosting, top rated web hosting for mac 2012, unlimited web hosting, vps web hosting, web domain hosting, web hosting lion apple, web hosting review, what happened to the ability to have a website with my $99 yearly MobileMe fee?, Where can i upload my website now?